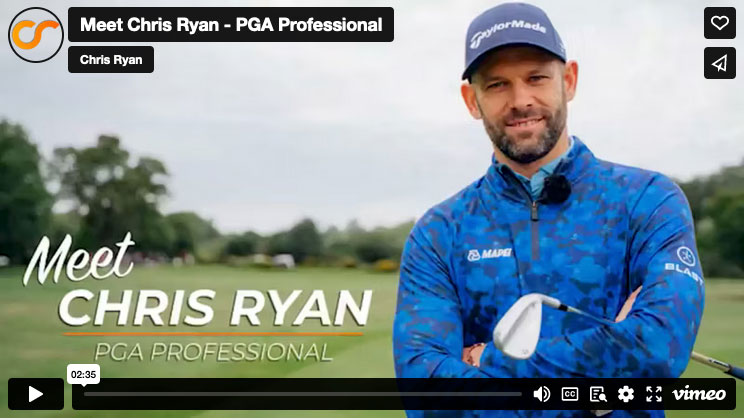 GOLF COACHING
Find your game
As a full-time coach, Chris has conducted over 10,000 lessons ranging from the complete novice to players in the professional ranks.
Chris's golf coaching methods have helped golfers of all levels both play better, and understand some of the key concepts needed to do this.
To begin please select the golf coaching method that best suits you:
I need a specific course:
I need online coaching:
Golf lessons
ONLINE GOLF LESSONS
Join us at Chris Ryan Golf for your online golf lessons. We all know that practice makes perfect, so sign up to upgrade your game and reach your full potential on the golf course. Our online golf lessons will cover all aspects of golf from the tee shot to sinking the putts.
Our comprehensive golf coaching courses will offer you the support you need with practical tips for everyone from the complete beginner to the experienced club payer. Sign up to our online golf lessons now to now to start seeing results.
Stay up to date with news, event, golf schools and more
FAQs
WHY CHOOSE CHRIS RYAN GOLF FOR GOLF COACHING?
Every day, my motivation stems from my desire to assist golfers with their game and increasing their enjoyment on the course. With almost 20 years of coaching experience, I have gained knowledge on effective techniques that produce fast results with minimal practice time, recognising that your time is most valuable spent playing on the course.
HOW MANY GOLF LESSONS SHOULD I TAKE?
Although I would love to claim that I can 'fix' a golfer with just one lesson, the truth is that coaching is a continuous process. My students who have achieved the best results understand this and check in with me throughout the year to ensure they remain on the right track and maintain their level of performance.
WHAT ARE THE BENEFITS OF ONLINE GOLF COACHING?
To put it simply, my coaching will improve your golf game. I ensure my students have a clear comprehension of their golf swing, recognise areas that require improvement, and understand the steps necessary to enhance their skills. As their coach, I equip them with the necessary tools to implement these changes effectively.